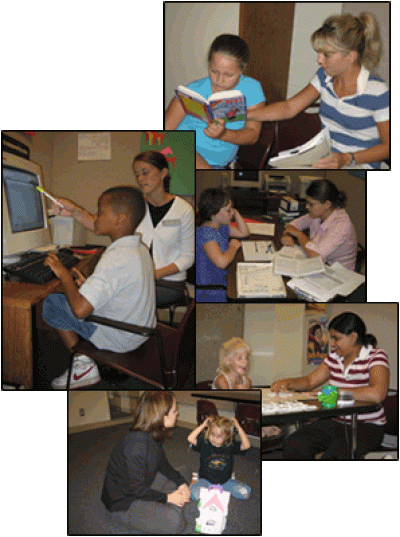 The Clinic is staffed by speech-language pathologists who are certified by the American Speech-Language-Hearing Association and licensed by the State of Ohio. The assessment and intervention sessions are conducted, under the supervision of these certified and licensed clinicians, by graduate student clinicians in the Department of Speech and Hearing Science. The Clinic is operated while OSU is in session, offering services 12 months out of the year. Therapy programs are designed to meet the individual needs of each client and are provided primarily in one-to-one sessions. 
Each speech-language assessment session reserves approximately 3-4 hours for a comprehensive examination. Speech-language therapy sessions are typically one hour for one to two times per week. Because generalization to home environments is critical to clients' performance, this clinic is equipped with observation capabilities for family to view the sessions. This observation is helpful when clinicians discuss home program information for family to facilitate additional skills. 
Speech-language screenings are available and typically take approximately a half-hour with results determining the need for a full evaluation.
---
Room 141 Pressey Hall
1070 Carmack Road
Columbus, OH 43210
Hours of Operation: Monday-Friday, 8am-5pm
Phone: 614 292-6251
TTY: 614 292-6251
Fax: 614 292-5723